0 Apartments found sorted by monthly rate
Momentarily there are no properties with the characteristics required. Please continue with your search.
San Telmo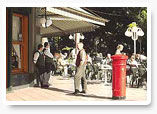 Apartments in San Telmo. San Telmo is one of the oldest neighbourhoods in Buenos Aires. Located in the core of the city, it is probably the most important touristic destination in Buenos Aires, a lively bohemian neighbourhood full of antiques and craft fairs, "tanguerías" (Tango houses where you can listen to or dance tango) and "bodegones" (little traditional pubs and restaurants). Being one of the oldest districts in the city, it still retains much of its colonial style; you can find buildings of varied architectural styles from the 19th and early 20th century standing in narrow cobblestone streets. We offer apartments in San Telmo completely restored and redecorated, either retaining their original style or in the latest fashion. Art-Deco, baroque or classical French apartments or houses can be found among our selection, ranging from small, cosy studios to luxurious five-bedroom houses with open patios and plenty of space, all of them equipped with the latest technology in order to ensure your comfort. San Telmo is just a few minutes walking from the centre of the city and other fashionable or touristic neighbourhoods such as Puerto Madero or La Boca, and other neighbourhoods are easy accessible via subway or public buses.
Our Exclusive
International Portfolio