Luxury Apartments
Search by category
Search by neighborhood
Owners
0 Apartments found in sorted by monthly rate
Momentarily there are no properties with the characteristics required. Please continue with your search.
Puerto Madero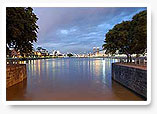 In Luxury.ba we offer you an important selection of apartments in Puerto Madero, the newest and fastest growing exclusive neighbourhood in Buenos Aires. A veritable epitome of the booming construction and development in Buenos Aires in the 21st century, Puerto Madero emerged from what it used to be a decaying river port as a high class residential and entertainment area.

Luxury apartment towers, five star hotels, corporate offices, shopping malls and high quality restaurants flourish everywhere in this quiet district by the river. You can enjoy numerous outdoor activities, such as hiking, jogging or bird watching in the nearby Ecological Reserve, or you can take a walk around the marina and take a break at one of the many outdoors cafes and restaurants. We offer you the best apartments in Puerto Madero, fully equipped with topmost technology for your comfort and relax and exquisitely decorated in the latest fashion. And only a few minutes away from the centre of the city or other touristic destinations, such as San Telmo, Recoleta, Plaza san Martín or La Boca.
Apartments in Puerto Madero