0 Apartments found sorted by weekly rate
Momentarily there are no properties with the characteristics required. Please continue with your search.
Recoleta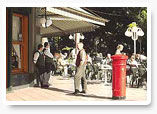 In Luxury.ba we offer you the best selection of apartments in Recoleta. Recoleta is without any doubt the most aristocratic neighbourhood in Buenos Aires. Named after the Franciscan monastery "Monasterio de los Padres Recoletos", which was built there in the 18th century, the area was populated by the elites around 1830, when the Yellow Fever swept the old city. Known as the Paris of South America for its French style architecture, this classy neighbourhood abounds in imposing buildings, art galleries, museums, trendy boutiques, bars and restaurants. There you can find the Basílica del Pilar, a church built in 1716, next to the  Recoleta cemetery, where there stand elaborate mausoleums in remembrance of members of the aristocratic families or other famous characters, such as Eva Perón. Facing these, there lies Plaza Francia, a beautiful public park which holds on weekends an important craft fair. Also in Recoleta you can find the National Museum of Fine Arts and the Village Recoleta Complex, a dazzling entertainment centre which holds cinemas, classy boutiques and restaurants. We offer you a wide selection of exclusive apartments in Recoleta, luxuriously furnished and fully equipped, and only a few minutes away from the centre of the city.
Our Exclusive
International Portfolio